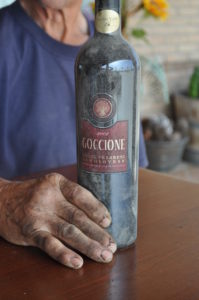 Azienda Agricola Roberto Lucarelli is located in Cartoceto (225m a.s.l.) in the northern part of the province of Le Marche. There in the fertile hills flows the river Metauro, which gives its name to the wine region.
The ideal landscape, the Italian sun and the influence of the Adriatic help Roberto to make the finest wines in his modern cantina. Roberto is a modern traditionalist who applies modern techniques to traditional processes handed down through the generations.
This is the land where we live and cultivate our grapes and olive oil.
Combining both traditional manual and modern techniques we strive to make the very best wine and olive oil we can.
Wines are made with respect for nature. It's all about the grape. A good wine is made in the vineyard and not in the cantina. We work completely organically, without chemicals. Our philosophy is to maximise quality by controlling the source, nuturing every grape.
I place the highest priority on the quality of all our wines, so that you can be sure to enjoy them.
Yours,
Roberto Lucarelli … a modern traditionalist…